[vc_row][vc_column width="1/1″]
If you are not sure of your ring size, we recommend these options:
You can have your finger sized at any jewelry store, ask for a wide band ring fitting.

Use the attached ring size tape measure PDF below on this page.


Most stylist are seeking shear protection for their pointer finger, and some stylists prefer protecting their middle finger from shear cuts.
[/vc_column][/vc_row][vc_row][vc_column width="1/2″]
Download the LUCi Ring Sizer
---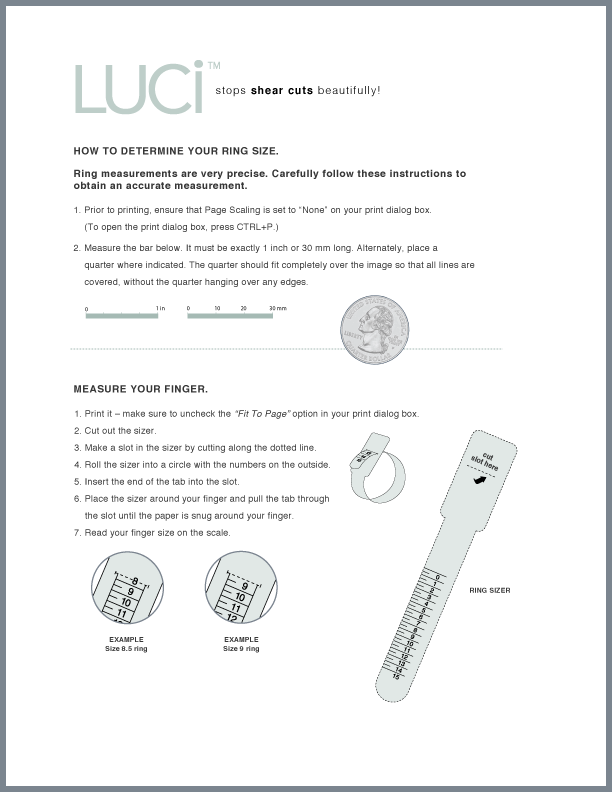 [/vc_column][vc_column width="1/2″]
Standard Sizes
7.5, 8, 8.5, 9, 9.5, 10, 10.5, 11
*Special Order Sizes (add $10)
6, 6.5, 7, 11.5, 12, 12.5, 13, 13.5, 14

Lucille Pew, founder and president of LUCi LLC, encourages stylists to properly fit your new LUCi™ Ring. Lucille says, "After working all day with your shears, shampoos and conditioners, you'll discover that a little tighter fitting LUCi Ring when you first put it on in the morning, is the better fit!"

Once you are certain of your ring size for ordering, select your size from the pull-down menu on the Shop page. We try to carry the widest selection of full and half ring sizes to properly fit most pointer fingers.
[/vc_column][/vc_row]